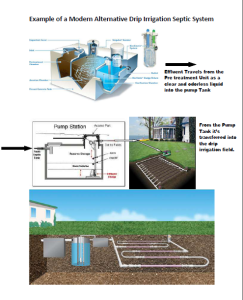 Specializing in Advanced septic systems that are ideal for small lots or poor soils, we carry all the Products you need for whatever type of Septic System you have or are planning to install at the most competitive prices in Missouri Including the following any many more:
http://www.netafimusa.com/wastewater
Drip Irrigation System Basics:

A Drip Irrigation System is a type of drain field that includes a a pump tank. Only very well treated wastewater enters the Pump Tank. The pump sitting in the bottom of the tank pumps the wastewater through a disc filter to be sure that no solids can escape the tank. The treated wastewater is then pumped through the 1.25″ feed line which leads to the 0.5″ drip lines. The 0.5″ drip lines are installed throughout the field around 6-8″ in depth. Each line has emitters that distribute the water throughout the drain field. Whatever treated wastewater the soil doesn't absorb during the pump cycle is returned to the pump tank do be distributed the next pump cycle, therefore never letting the soil be given more water than it can handle.

Maintenance:

The filter(s) in your drip system need to be cleaned/replaced occasionally to ensure that they do not get stopped up.
The tanks will need to be cleaned out to remove any sludge that has escaped the treatment tank. Sludge in the drip tank can clog and ruin the pump and possibly the entire drip system.
Over time, sludge will build up in the line and stop up the emitters. It is vital to have your system flushed/cleaned out  about every year to remove any blockages.
It is important that the grass/turf cover over the drip irrigation field is cut regularly to keep the water from surfacing. (See Picture above)
 Licensed  Dealer.
 Click on the Norweco icon for full list of Products Available
Plastic and Concrete Tanks
Pumps, Panels, Timers, Alarms, Floats, UV disinfection Systems, Chlorination-De-Chlorination Systems

Drip Irrigation System Package

Price based on 1000 linear feet system with all In-Field components, Norweco Singulair Bio Kinetic System-Model 960-500 GPD and 1000 Gallon Low-Inlet Dosing Tank Package and the new WASP Control Panel…..Starting at $5,999.55

Norweco Singulair Bio-Kinetic Systems-Models 960-(750-1500 GPD)

Please call for Current Pricing